Category: Scenes | Landscapes | Oil on canvas
Title: Ruins
Year: 1964
Dimensions: 115 x 88 cm
Technique: oil on canvas
Signature/Dating/Designation:
signed on the
bottom right
Provenance: depicted in: auction catalogue Palais Dorotheum (auction of Oct. 21, 2010), p. 73; Franz Smola, Alfred Korn-
berger (1933 - 2002). Der Akt als Innovation (The Nude as Innovation), with a Catalogue Raisonné by Monika and Gerald Ziwna, Vienna 2007, p. 319 (WVZ-Nr. 103).
auctioned: Oct. 21, 2010, Palais Dorotheum, Vienna. Depicted in the book of the exhibition "Das Spektrum des Universums" 2013 curated by Gabriela Koschatzky Elias, page 119.
Location: Bequest of Alfred Kornberger, Private collection Vienna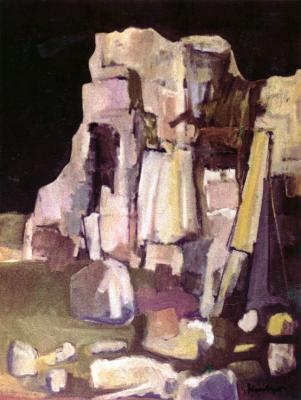 © Kunsthandel Ziwna