Category: Nudes | Semi-nudes | Scenes | Oil on canvas
Title: Female semi-nude undressing (figure in motion)
Year: 1984
Dimensions: 61 x 50 cm
Technique: oil on canvas
Signature/Dating/Designation:
signed and dated
84 on the bottom right, inscribed "Figur in Bewegung" on the reverse
Provenance: depicted in: auction catalogue »im Kinsky« (auction of September 27, 2011); Franz Smola, Alfred Kornberger
(1933 - 2002). Der Akt als Innovation (The Nude as Innovation), with a Catalogue Raisonné by Monika and Gerald Ziwna, Vienna 2007, p. 354 (WVZ-Nr. 457).
auctioned: September 27, 2011, Kinsky Kunst Auktionen, Palais
Kinsky, Vienna.
Location: Private collection, Vienna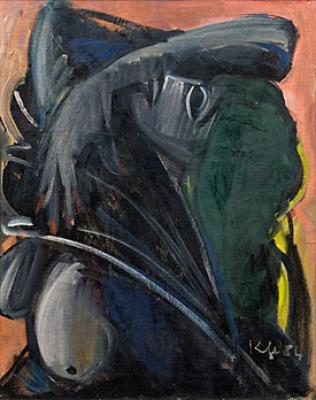 © im Kinsky Kunst Auktionen GmbH